Welcome to Going Global,
"The Site for Newbies to Global Business and the Internet"
Going Global was born on April 1, 1997. Since our inception, we have seen and lived through much turmoil and many changes, both on the Internet and in the world. Our commitment, however, has remained steadfastly the same. Going Global has been recognized as an Internet resource and we know that our visitors come from every corner of the globe, speak many languages & observe diverse customs and include business executives as well as high school and college students. We continue to strive to make this website better for the Internet community and to live up to the high standards set by the recognition bestowed upon us by our peers.

Privacy Policy: Any personal information gathered at this website via feedback or inquiry forms is the personal property of the person, business, organization and/or entity that provided it. Therefore, it has been and will always continue to be the policy of this website that this information cannot and will not be released and/or shared with any other party without the expressed permission of the owner of the information provided.
Our Mission
To provide information and assistance for newbies to international business and the Internet as well as opportunities for enhanced global business outreach for individuals, companies, organizations and government agencies worldwide.
Company Profile
Going Global is designed and produced by JPG Consulting. Some people have called us, "the small company with a big attitude". We continue to assume that they meant that as a compliment.
JPG Consulting is an international business consulting company which focuses on international business research, international marketing (traditional methods and Internet), acting as liaison for business-government relations and strategic international business partnering. Please read a Special Message From Our President.
Contact Information
Telephone

215-842-0764

FAX

215-827-5774

Postal address

P.O. Box 5617, Philadelphia, PA 19129-0617 USA

Electronic mail

General Information: info@going-global.com

Webmaster: webmaster@going-global.com
Our D-U-N-S# is 799468640
Biz@dvantageSM features one-stop access to Dun & Bradstreet's popular financial and credit reports along with patents, trademarks, and articles from thousands of brandname business, news, science and technology publications.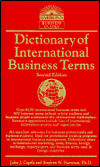 Dictionary of International Business Terms
Going Global has been fortunate enough to win some site design awards:

*Reprinted from ZDNet Inc. October 2000, with permission. Copyright (c) 2000 ZDNet Inc. Content originally appearing in Ziff Davis Smart Business is the copyrighted property of Ziff Davis Publishing Holdings Inc. Copyright (c) 2000. All Rights Reserved.